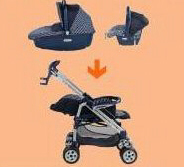 The Peg Perego car seats and bassinets can be mounted on the stroller very simply and easily thanks to the 'Ganciomatic' quick release system.
This also applies to attaching the car seat to the 'car base'. Such a car base

is placed on the couch or the front passenger seat of the car in the seat belt. This is done just once. This greatly simplifies the attachment/detachment procedure of the seat belts every following departure and arrival. Just let the seat down into the car base, and it gets fixed properly.

The seat of the car itself is not straight and level, but sloping slightly. Of course, this would also cause the baby car seat to stand more upright, which is not safe and not comfortable for new born babies. The car base has a correction knob to adjust this angle. It even has a little gauge with a bubble, to check the right position!
Simply secured in the right position!